Stay Open was created to promote inter-human connection through democratized living spaces and social engagement. The environment requires co-creation by members and we will flow with the stream of our communities whenever possible. With that said, we consider four central philosophies non-negotiable:

Zero tolerance policy for any form of harassment or discrimination. Stay Open is a safe space for all humans and any breach of this will lead to immediate response and ejection. (No jerks allowed, thanks!)

Treat others with respect. Support others to flourish within the experience. The human experience can be hard, so let's all help one another grow and prosper!

Protect others. Minimize risk by following COVID-19 protocols, respect quiet times, help keep the space clean and enjoyable. Be Kind! No Stealing! Golden rule…you get it!

Have Fun!
Stay Open is an open-hearted, positive, creative space for living, working, playing, and connecting. Frank Gehry designed our spacious and stunning home, which is nestled directly on Venice Beach.
We wish to invite bright-hearted, wide-eyed, enthusiastic, and open individuals to create an unparalleled community with us. Our ETHOS and FAQs will give you a sense of who we are, the environment we are creating, and what we are looking for in our community members.
Stay Open transforms any venue into high-end, socially engaging, affordable hotels and co-living properties. Our properties are a true mosaic of human connection!

We bring value to our guests & members through the creation of unique experiences, curation of artful and cozy spaces, authentic community, and professionally managed properties. 

For access to exciting perks and insider events, check out Stay Open's revolutionary membership rewards program Stay Pass, the first of its kind on the blockchain.
Our Pods are your cozy and warm sanctuary while you stay with us. Each pod has customizable lighting & shelving, privacy curtains & doors, ventilation, and outlets, so you can craft your own mood and vibes as you see fit. Read a book, meditate, shut off for some "me time," and, of course, sink into ultimate indulgence for an amazingly comfy slumber.
Our Pods are your cozy and warm sanctuary while you stay with us. Each pod has customizable lighting & shelving, privacy curtains & doors, ventilation, and outlets, so you can craft your own mood and vibes as you see fit. Read a book, meditate, shut off for some "me time," and, of course, sink into ultimate indulgence for an amazingly comfy slumber.
People from different companies and projects working together in a shared environment designed to enhance productivity and creativity.

Co-workers pool resources to create an inspired workspace at a more affordable price and often make meaningful connections along the way.
Is stay open expanding to new locations?
Stay Open is expanding to new locations in Southern California soon! With such high demand for affordable, 'no compromise' lodging, we are working tirelessly to meet the needs of our current and future guests. Stay connected with us on social media and join our mailing list to stay in the know.
What types of events can I expect?
Stay Open venues are hubs for live events & experiences, including, but not limited to: art showcases, live music, movie screenings, yoga, group fitness, surfing, outdoor activity lessons, meditation, cooking and drink-making how-to's, burlesque shows, and talks. We are constantly looking for new and exciting ways to bring people together. Do you have an awesome experience that you would like to provide? Let us know!
What are you doing about COVID and other communicable health concerns?
Member well being and comfort is our highest priority. We have implemented the following steps in order to protect all of those in our spaces:
Contactless arrival and departure
Professional cleaning of all spaces
Providing antimicrobial soap, hand sanitizer, and other supplies as needed
EPA approved cleaning supplies are available throughout our spaces
What is Stay Open Venice Beach?
Stay Open in Venice Beach. It's nothing short of a dream! Have you ever wanted to live and work directly on the beach while surrounded by amazing humans in a cozy and art-filled space?! Drop by for an afternoon to work, for a swim, or to rest your head for a month and find that life-enhancing inspiration
around every corner.

Designed by Frank Gehry, the bright and open concept space features a lounge on the ground floor, co-living on the second floor, co-working on the third floor, and a spacious rooftop overlooking the beach.
How many people will I be co-living with?
Up to 10 members will be sharing the space and creating a community at any given time
Do you have a minimum length of stay?
We have a two-day minimum stay on weekend days – Fridays & Saturdays – as well as some Holidays.
What is the maximum length of stay?
We are excited to offer you a chance to stay with us for up to two weeks!
What's your cancellation policy?
Reservations canceled outside of 72 hours prior to arrival will have the one night deposit returned. Memberships canceled within 72 hours of arrival will forfeit the one night deposit. Full payment will be taken on the date of check in, and will be non-refundable except in cases of emergency.
We work diligently to create a positive experience for all our guests when staying at or visiting Stay Open. Due to the unique experience of co-living and co-working we do not allow guests to bring non-guests into the property. If you would like to share the amazing Stay Open experience with an interested party, we can arrange limited tours between 10 am – 5 pm. Please contact us during these hours to make arrangements.
Are pets allowed at Stay Open Venice?
Pets are not allowed. While we love your furry friends, do not allow them at our Venice Beach location.
Check-in is 3 pm -11 pm. Quiet hours in the property begin at 10pm. Check-ins in the hour after 10 pm will be contactless. We ask that you please keep noise to a minimum when checking in between 10 and 11 pm.
24 hours prior to arrival you will receive all the info you need to check in! As soon as your space is ready, you will receive a push notification including the mobile key to open the door. You will be greeted by a staff member who will help you with anything you need and make sure you feel comfortable in the space.
Do you allow early check-in and late check-out?
Stay Open has a limited number of Day Passes designed for co-working, early check-ins and late check-outs for a $30 fee.
Early check-in provides access to the facility beginning at 10 am but does not guarantee access to your pod or personal storage areas until 3 pm.
Late check-out provides access to the facility until 5 pm, excluding pod access and personal storage. (Failure to collect luggage will result in a $100 fee.)
Luggage storage is only available to guests who have confirmed Day Passes for early check-in and/or late check-out.
Like all of LA, parking is extremely limited. You can park on the street or in a nearby parking lot, but we suggest leaving your car at home. Venice is very walkable and bikeable, and we provide beach cruisers for quickly getting around.
913 Parking **see location & parking map above:
913 Speedway
24 Hour Contact: (310) 280-8213
$10-15/day. NO overnight **price increases at peak hours

Let people know that you are with Stay Open
Our contacts with them are the Parking Manager Pablo and the Security Guard Dean
Garage closed from 9pm to 10am and can only be accessed with a clicker.

Feature Parking .6 miles away
Contact: Gabriel; (310) 396-2418
Address: 110 Navy St, Venice, CA 90291
$12/day $20/overnight
Where do I secure my items?
Every member will have a cabinet area equipped with a lock to securely store all of your belongings.
How do I get in and out of Stay Open Venice Beach?
Guests can access the space securely via a digital mobile key, which will be shared on the day of arrival.
Please notify Stay Open of any changes in your arrival time to ensure a seamless check-in process. 
House rules, what to bring & reminders
Stay Open is a gender inclusive space with unisex private bathrooms.
Stay Open Venice Beach is restricted to guests ages 21 and up for all booking types.
No smoking or vaping anywhere inside the premises. Smoking, including cannabis, may be consumed on the rooftop.
Drinking is part of life. We just ask you to please drink responsibly.
Quiet time is 10:00 PM – 9:00 AM.
Keep all communal areas tidy and neat at all times.
Only 1 member/person to a pod-
KITCHEN
Please keep the kitchen areas clean and tidy. Clean up once you are done cooking.
Use the designated numbered area corresponding to your Pod number when storing food in the fridge and in the pantry.
No cooking or baking after 9PM.
BATHROOMS / SHOWERS
Limit shower and bathroom usage and be mindful during peak hours (mornings and evenings)
Do not store personal items in the bathroom. You will be provided with a caddy to take in/out.
Hang towels on hooks that match your assigned pod number.
Clothing Drawers & Lockers
Only use your assigned areas for storage
LAUNDRY
Be mindful of others and don't forget your laundry in the washer/dryer.
GUEST POLICY
Stay Open was created to be a space for meaningful connection with amazing people staying in the house. For that reason we limit the amount of non-guests entering the space.
Unfortunately we do not allow outside guests into the property. If you want to show a friend around, please check with staff between 9AM – 5PM.
BRING
Anything you will need to live and work in our space! This includes toiletries, clothes, laptop, etc.
Stay Open provides towels by Coyuchi as well as hand soap, shampoo, conditioner, body wash and lotion by Public Goods.
Anything you want to share with us! Things that you use to cook, make art or anything else!
A good attitude and an open heart!
DO NOT BRING
Pets. We love furry friends, however not all of our guests may! No member or guest pets are allowed anywhere on our premises.
Weapons. Whether for safety or not, weapons are not allowed anywhere on our premises.
No flammable or hazardous materials.
No candles or incense allowed.
Stay Open Venice Beach is located at:
11 Brooks Avenue, Unit B
Venice CA, 90291
Directly between Ocean Front Walk (the boardwalk) and Speedway (the one-way alley behind our building.)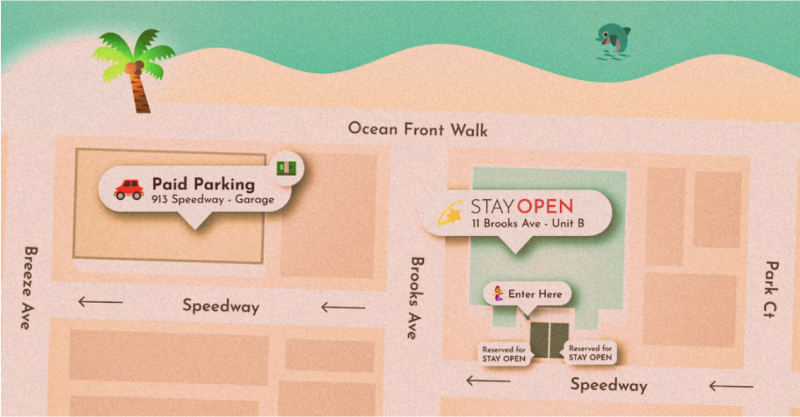 Thank you for choosing to Stay Open with us!
If you have any questions, text AKIA! at 301-517-9561 and Stay Open will receive your message and respond promptly.